Hospitalization deposit
We will keep your deposit at the time of admission. Please pay the designated amount at the counter of Admission/Discharge Center when you complete the hospitalization procedures.
In case of emergency hospitalization, please complete the procedure within 3 days after hospitalization. A "Deposit Slip" will be issued upon payment.
Please keep it in a safe place as the fees will be settled when you leave the hospital. No deposit is required for credit card payments.
Hospitalization deposit

500,000yen (Normal delivery).
200,000yen (Direct payment for normal delivery and childbirth).
100,000 yen (Insurance treatment such as Cesarean Section).
Delivery fees
The approximate cost of delivery at our hospital is about 800,000 to 1 million yen for mothers and babies in the case of natural childbirth or cesarean section. The hospitalization period for vaginal delivery is 5 days from the day of vaginal delivery, 6 days for primiparas and 6 days from the day of surgery for cesarean delivery.
Mother's side

Childbirth assistance fee / Childbirth treatment fee.
Basic hospitalization fee/meal fee.
Injection/medication fee.

Baby side

Neonatal care fee.
Newborn examination fee, etc.
Please note that delivery assistance fees and treatment fees will vary depending on the time of the baby's birth.
Our hospital is a member of the Obstetric Medical Compensation System, which is included in the delivery cost.
Special addition
If you wish to have a Pain-relieving Delivery, the following will be added.
Additional charge for pain-relieving delivery

120,000 yen (within 10 hours of anesthesia).
150,000 yen (more than 10 hours of anesthesia.
Direct Payment System for lump-sum childbirth and childcare payments
Those who give birth after 12 weeks are eligible to use the direct payment system for Lump-sum Childbirth and Childcare Payments to medical institutions.
If you wish to use this system, you will need to submit the "Agreement on the Medical Institution Direct Payment System for Lump-sum Childbirth and Child Care Payment" which will be given to you at the outpatient clinic for pregnant women before your hospitalization.
If you do not want to use the direct payment system but other subsidies, you will have to apply for them by yourself, so please check with your health insurance association.
If you need to certify or prepare documents after you leave the hospital, you will need to make an appointment to see the doctor.
Lump-sum payment for childbirth and childcare (per child).

420,000 yen.
404,000 yen ※Less than 22 weeks (including miscarriage and abortion).
About payment
Please pay the hospitalization fee at the Admission/Discharge Center when you leave the hospital.
Credit card payments will be accepted at the automatic payment machines. Please be sure to check your credit limit before using the machine. You will be required to enter your PIN.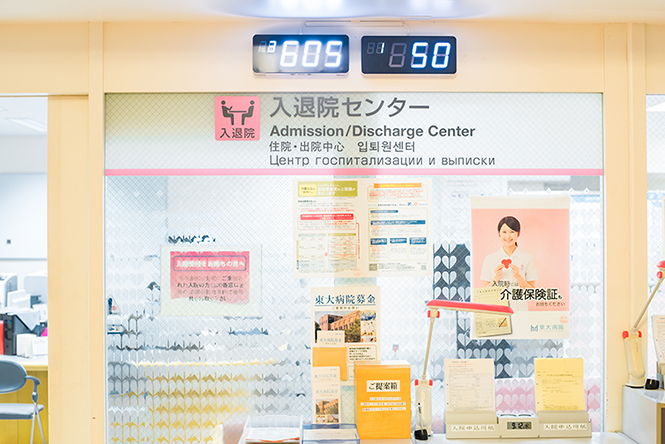 Location
1F of Inpatient Building A
Time
Weekday 8:30~17:00.
※ Except the serving hours, please use the reception desk next to the entrance for emergency patients.
Cards
 
※ One-time payment only.