About visiting
Please fill in the visitor's form at the reception desk on the first floor, wear your visitor's card around your neck, drop in at the staff station in the ward, and come to your room. When you finish, please return the visitor's card to the reception.
Please prepare the room number or phone number of the hospitalized person for the visitor's form in advance.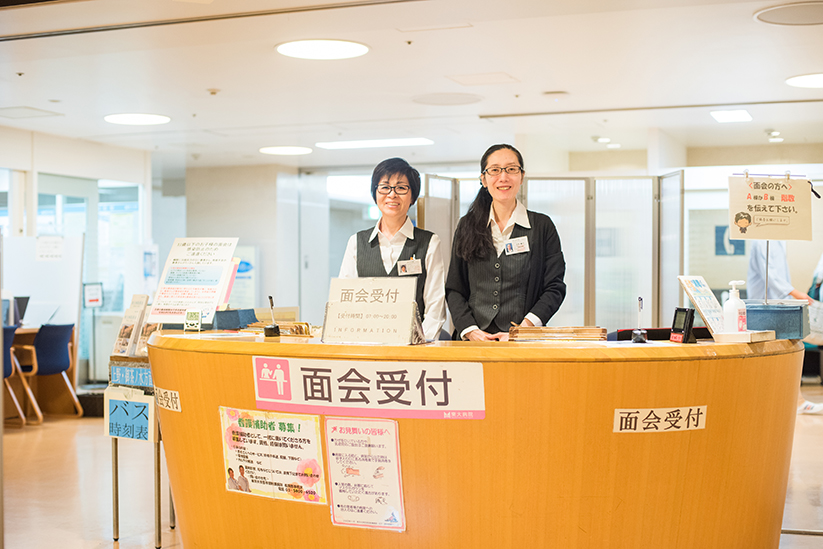 Reception
1F, Inpatient Building A
Date and time
7:00~20:00 
※When you are hospitalized at the Maternal-Fetal Intensive Care Unit, only family members can visit you 24 hours a day.
To maintain a safe and comfortable environment for patients, please observe visiting hours strictly.
Visitors are not allowed to eat or drink in the hospital room.
Visitors with symptoms such as fever, cough, vomiting, diarrhea, rash, and those suffering from infectious diseases are not allowed to visit.
Children are susceptible to epidemic infections, so please try to refrain from visiting the hospital.
In particular, children under the age of 12 are not allowed to visit except for family members (up to the first degree).
In addition, please visit only in the lounge, not in the hospital room. Visiting hours are 13:00-17:00. For more information, please ask at the obstetrics outpatient clinic.
Please note that the visit may be refused, or the time may be limited depending on the patient's medical condition.
Please be aware that if there are too many visitors, patients may not be able to rest sufficiently and may cause inconvenience to other patients.