Check and prepare by the 34th week of pregnancy.
For the baby
Consider the season and prepare baby items.
Daily necessities when you are hospitalized
Please keep your luggage to a minimum and refrain from bringing carry-on bags, Boston bags, etc. It is recommended that you remove nail polish and accessories. Please do not wear makeup when you are hospitalized. Please remember to bring your baby's clothes, swaddling clothes, diapers (about 2 diapers), and mom's clothes for when you leave the hospital.
Daily necessities
Quantity
Advice
Bed clothes
1
If you use the hospitalization set, you will be provided with a
nightgown, bath towel, and face towel.
Towels
2-3
Footwear
1
Tissue box
1
Gauze handkerchief
2-3
Mainly used for babies.
Toiletries
Shampoo, toothbrush, etc.
Underwear
Postpartum panties
(or panties for pregnant women).
Breast band
(nursing bra without wire)
socks, etc.
Warm clothes
Cardigans, spats, etc.
Medicines
If you are using any, please bring ointment, eye drops, etc.
Eyeglasses
If you are a contact lens wearer, please wear glasses during hospitalization.
(If needed)
Blood glucose meter
Please bring your own chip and needle.
(if needed)
Spoon, etc.
1
They can not be borrowed outside of meal times.
From the hospital
All patients who deliver at our hospital will receive a birth bag. We also rent pajamas, towels, and other hospital sets for a fee for those who wish to use them.
Birth Bag
You will receive a bag with the minimum set of items you will need immediately after delivery.


Birthing panties One pair of postpartum panties.
Childbirth pads (M/L size).
Two packs of wipes.
One gauze handkerchief.
Navel disinfection kit.
(cotton swab, disinfectant, gauze) Umbilical cord box.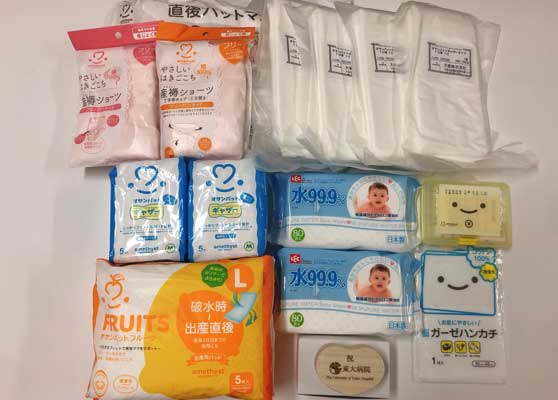 Hospitalization set
If you wish, you can rent them for 500 yen per day (tax not included).


Sleepwear (pajamas)
Hand towel
Bath towel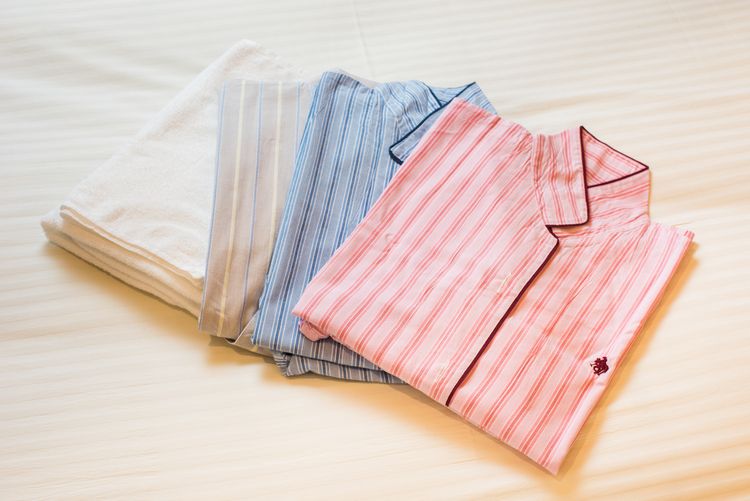 Required Documents
Please refer to the following to prepare the necessary documents. To prevent theft, please do not bring large amounts of money or valuables.
A long wallet will not fit in the safety deposit box. Please bring a small wallet.
Documents
Advice
Mama's Notebook
Maternal and Child Health Handbook
Consultation form
Documents for hospitalization
They will be handed out at the time of health guidance.
Application form for Metabolic
Abnormality Test
They will be handed out at the time of health guidance.
Documents for necessary allowances
Childbirth and childcare allowance, lump-sum payment for childbirth and childcare, etc.
If you need a signature of a doctor or midwife, please bring them with you when you enter the hospital.
If necessary
CDs and aromas to use during the birth.
Straws for plastic bottles are useful.
Drinks and food
(jelly, rice balls, etc. that you want to eat during the birth).